Get ready for the FMRRA 2021 Round 6 at Palm Beach International Raceway!
As we enter the 2nd half of the 2021 season, we have quite the battle in the Formula 50 1000 Expert championship. We can easily have a lead change by the end of round 6. With double points season finale, we can not count out 2020 Formula 50 1000 champion.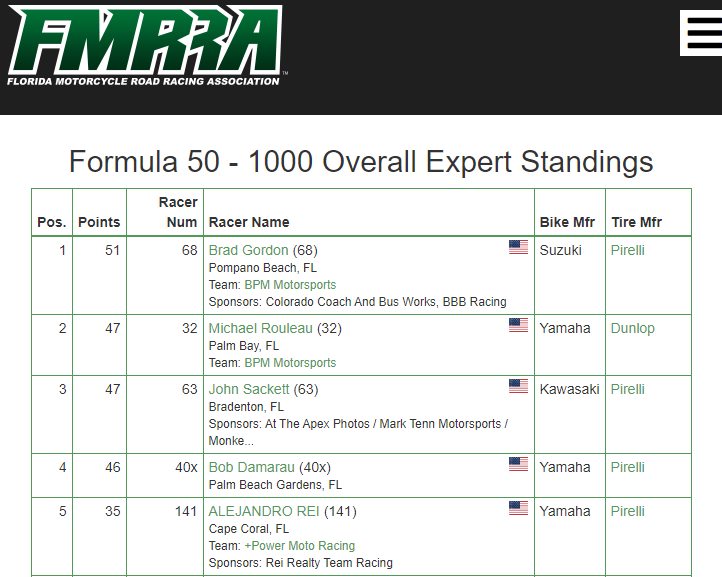 Have you been keeping track of what's going on in the Production Twin class? With 4 rounds to go, Aaron Tennyson holds a slight lead over Michael Zumbrum. FMRRA rookie, Julian Correa, may have found his rhythm and has started to make up ground in the past 2 rounds. Will Julian be able to continue his streak of wins this weekend? Will Aaron or Michael experience put them back on the top podium spot? This championship is far from over! It's going to be an exciting championship to watch!
There's no such thing as "Sophomore Slump" when Dennis Gonzalez gets on the track. He had to knock some rust off in his 1st race of the season. After that race, he has been on podium in every race. It may look like he a comfortable lead over Jordan Coccia, but Jordan is in position to eat into that lead this weekend. Both of them had best times in the 1:21's last time each raced at PBIR!
Here we go with the current state of FMRRA Tire War. There's still plenty of racing remaining to see which tire tops the charts for 2021.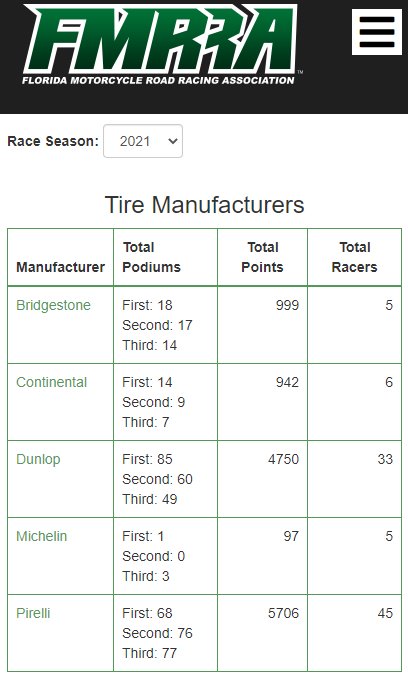 At first glance, you might think you know who the clear favorites are for this class championships. Coming into round 6, Edelberto and Yeysey both have a chance move into the top 2 spots. As we have seen this season, there are no guarantees in racing!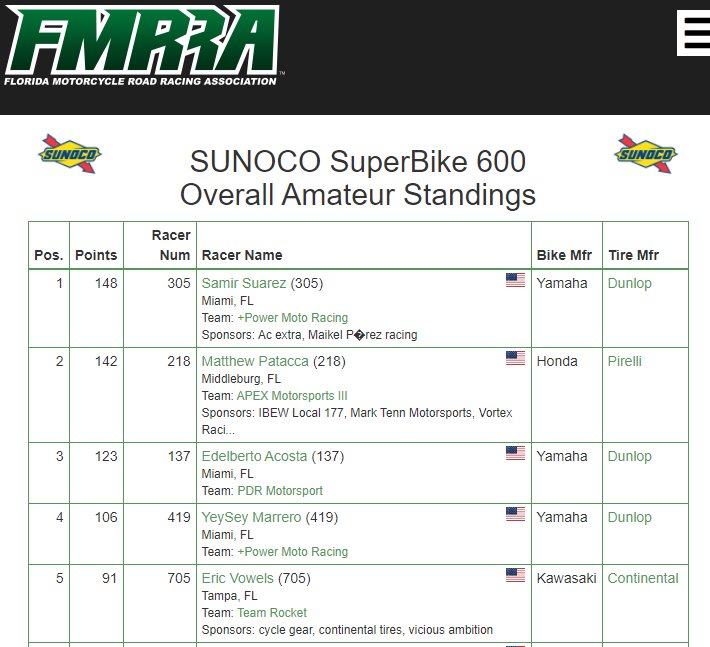 Let's take a look at the standings for the inaugural FMRRA Trio Cup standings. While 87 points may seem like a lot, it is split over team members.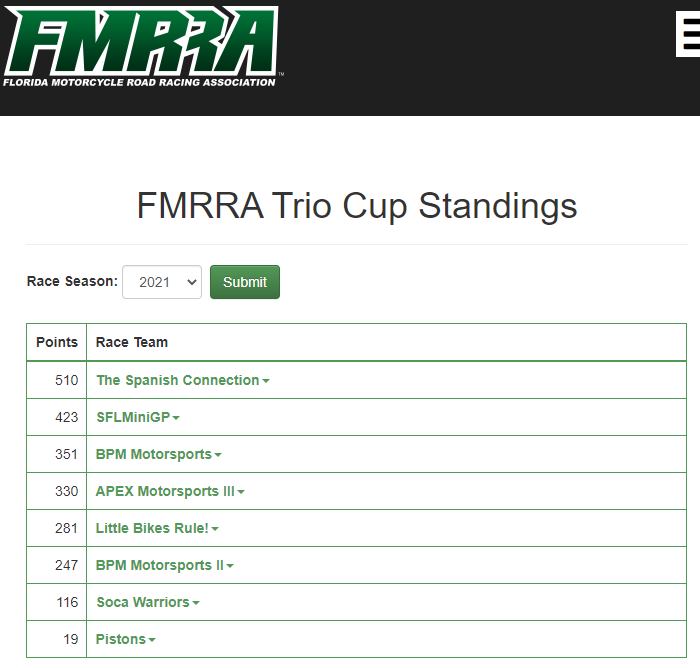 We're looking forward to a great weekend of racing!
Spectators are welcome
Gate Admission: $10 Saturday / $15 Sunday / $20 per weekend
Spectators riding motorcycles get in FREE
Children 12 and under free, parking-free
Food trucks will be available on Saturday and Sunday
Full Season Championship Results and Individual Race Results are conveniently available online at:
https://www.panamsbk.com/championships/
or follow us on social media:
http://www.instagram.com/floridaroadracing
http://www.facebook.com/fmrra