Florida Motorcycle Road Race Association heads to Homestead-Miami Speedway on July 10,11 for the final round of the 2021 championship!
After eight rounds, 50 championships are still up for grabs including the overall Amateur and Expert champions!
Here are some of the championships to look out for:
Amateur SuperStock 1000 Championship
These 3 racers have been leading the field in the SuperStock 1000 class. Dennis was leading the class in the grande corsa, sprint, and overall during the first half of the season with Jordan Coccia right on his tail. Chyler Weatherford was off to a slow start this season, but with consecutive wins in the 2nd half of the season, he has been able to climb to the top spot in the standings. These 3 have consistently been on the podium all season. But Homestead has shown that even the most dominant racer may have a rough showing and opening the door for other racers to stand on the podium! In a season where I've seen mechanical issues causing DNF's, you can't count out anyone in the top 4.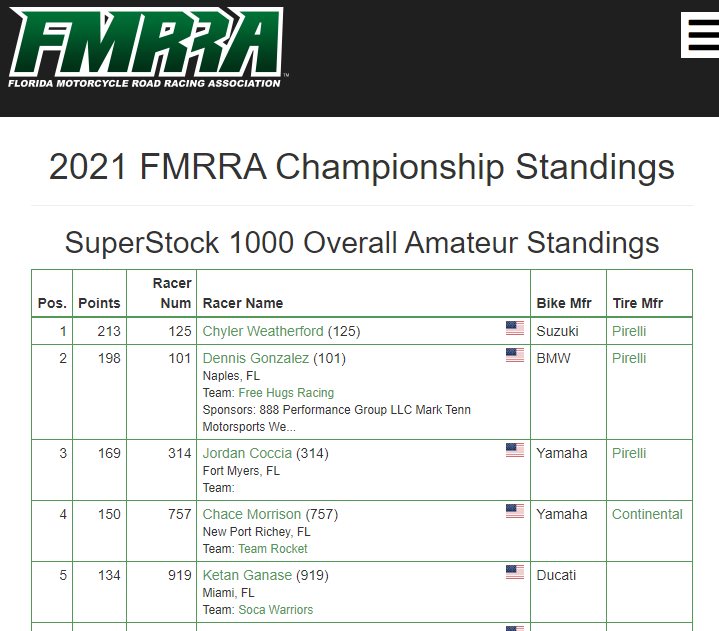 Formula 40 600 Championship
Can you teach an old dog new tricks? Or have these racers have enough tricks up their sleeve for the season finale? With the double points season finale, a race win by either season veteran expert Brad Gordon or 1st-year expert Maykel Peres would make them our 2021 Formula 40 600 Expert Champion. There are no guarantees in life and racing. Brad and Maykel still need to make it to the checkered. Michael Rouleau will be racing for a win and possible championship if by chance our 2 championship favorites encounter issues.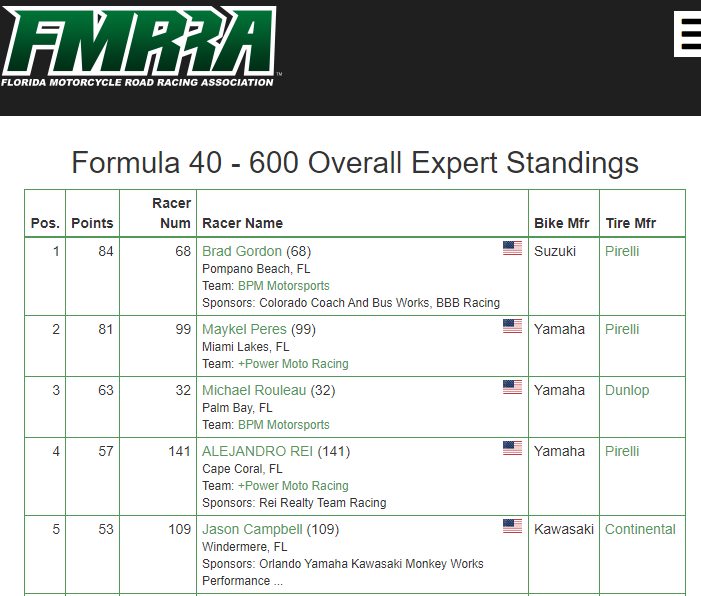 Formula Twin Sprint Amateur Champion
1 Round. 1 Race. 6 Laps. 24 Points Available. 22 Points Separate 1st and 4th. With 1 round remaining, Chris White holds a size-able, but not insurmountable, lead over Zane Lefko, Jerry Pellegrino, and Ben Cardella. In 2 weeks, one of these 4 racers will ride away as the 2021 Formula Twin Sprint Amateur Champion!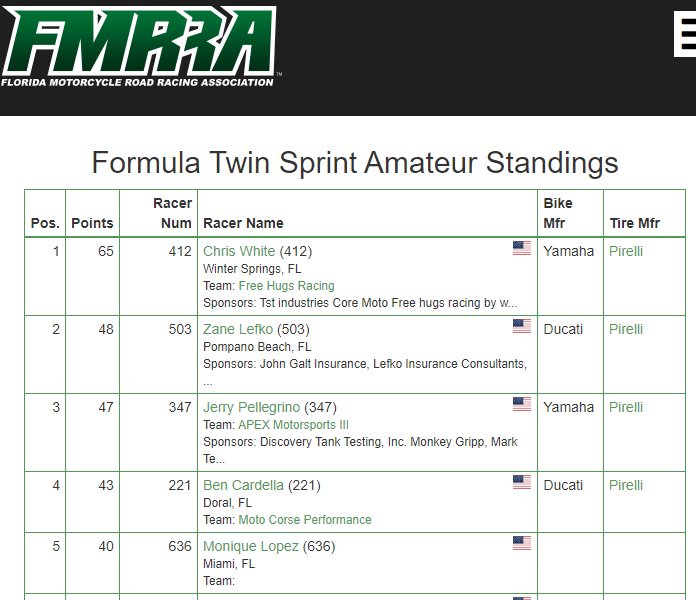 Sunoco SuperBike 1000 Sprint Amateur Championship
The 2021 season finale is going to be an exciting one to the very last race of the day! In their 1st full season, Jozef Vavrek, Chyler Weatherford, and Dennis Gonzalez lead the Sunoco SuperBike 1000 Sprint Amateur Championship. These 3 racers have been swapping podium positions all season long. Jozef has the advantage with an 8 point lead and only a 6 point differential between 1st and 2nd. Chyler is going to need to win and put another racer between Jozef and him. If Jozef and Chyler are not careful, Dennis is in a position to take the championship from both of them. If things weren't exciting enough, Jordan Coccia beat our 3 leaders in the last round at Homestead. Then there is Victor Silva who has been consistently 1 or 2 spots off the podium but has been getting closer with each round. Grab your drinks and get up in the stands because we have a feeling these 5 racers are going to put on one hell of a race to close out the 2021 season!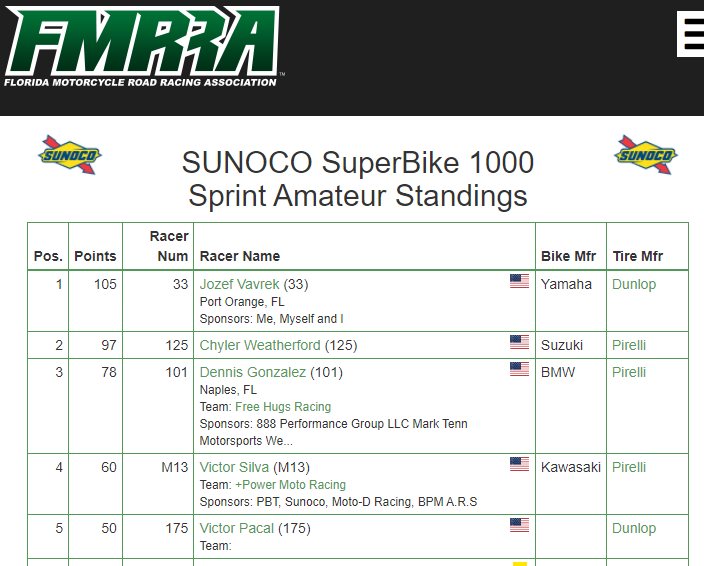 Amateur Production Twin Sprint Championship
With 6 podium finishes, Aaron Tennyson has been able to lead the field in the AMateur Production Twin Sprint championship. Even with the issues at Roebling, Aaron is still holds a small lead over FMRRA rookie, Julian Correa, and FMRRA veteran, Michael Zumbrum. Julian had a slow start in the twins class, but has been coming on strong in the 2nd half the season with consecutive wins. Michael Zumbrum's 6 podiums puts him in a position to be the next Production Twins Sprint Champion. If you think you know who's going to win this championship, just remember this, "Tung says that racing is like a box of munchkins. You never know what you're gonna get."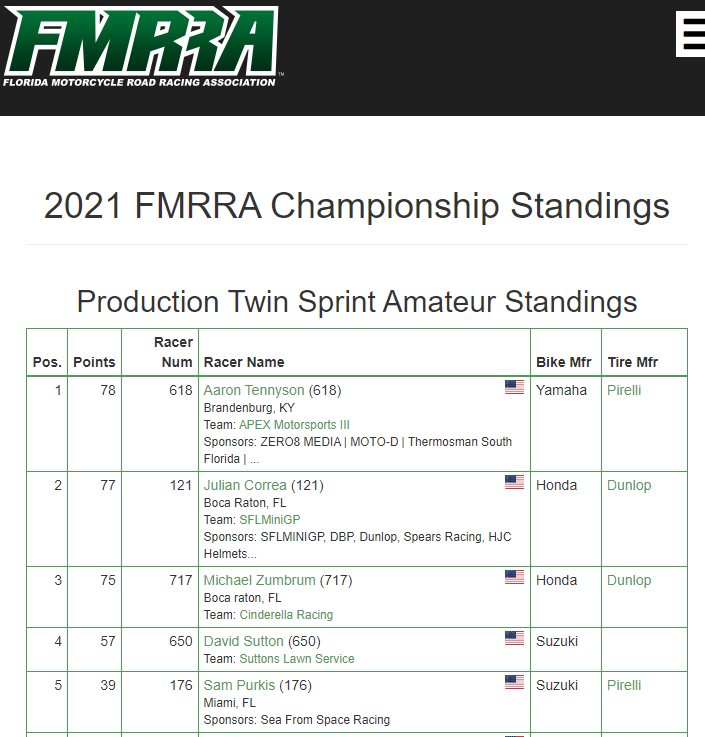 SuperStock 1000 Sprint Expert Championship
We may have a tie in the SuperStock 1000 Sprint Expert Championship. Todd Wagner holds a 4 point lead over 2nd place Alex Arango. It just so happens that the point difference between 1st to 2nd, 2nd to 3rd, and 3rd to 4th, is 4 points. Sean Dwyer has been around a few laps. Safe to say he knows it's not over until the checkered flag is waving. If something were to happen to our 2 leaders, he could end up in a tie with Todd. As if there wasn't enough uncertainty, Alex Nieves could have an effect on the race finish to force a tie. We have championships being decided all day in every race. You may as well find a comfy seat in stands or a spot by the pit wall!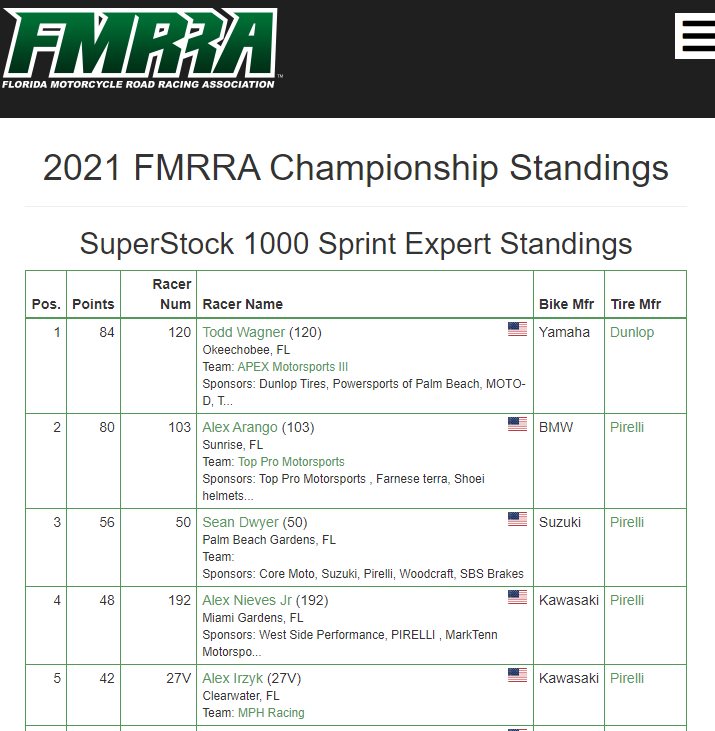 SuperStock 600 Grande Corsa Expert Championship
Who will be the 2021 FMRRA SuperStock 600 Grande Corsa champion crowned at the season finale? One of the most competitive classes in the series. Did Max Angles do enough in the 1st half of the season to maintain a small lead over the Silva brothers coming into the season finale? Will Max and the PDR Motorsports team return to the season finale to claim a championship or two? Has Max left the door open for Bruno or Fernando Silva to win the SuperStock 600 Grande Corsa championship? We can't forget about our 2020 SuperStock 600 Grande Corsa champion, Christian Miranda. We all know that once he grids up that he's not going to settle for anything but a win. Don't forget to set your alarm! You don't want to miss any of the action!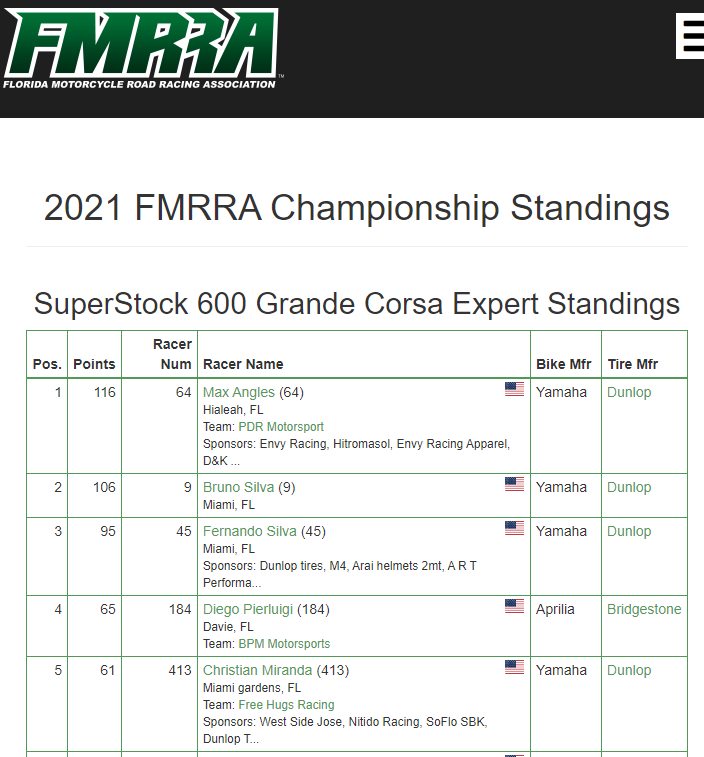 Amateur SuperStock 600 Sprint
On Sunday, the first overall championship will be finalized with the finish of the Amateur SuperStock 600 Sprint. Our leader Matthew Patacca has overcome some adversity to hold a 45 point lead over 2nd place Andres Dorado and 3rd place Michael Barclay. It's not going to be a walk in the park for Matt. Homestead has not treated Matt well this season. If Matt is going to finish as our 2021 champion, he will need to overcome prior bad luck. If not, there are enough points on the track for Michael to draft on past him to be the champ!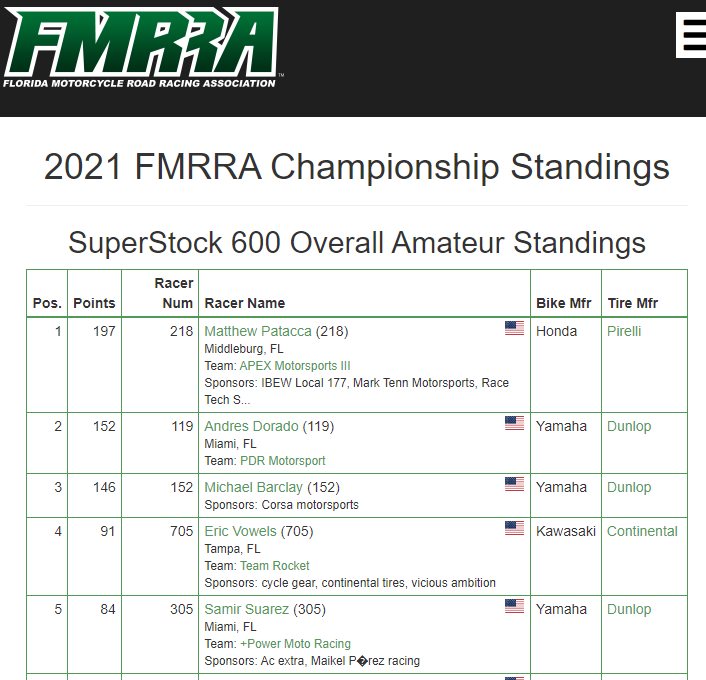 Formula Twins Sprint Amateur Championship
While Chris White may lead the Formula Twins Sprint Amateur Championship, Zane Lefko maintains his hold on the Formula Twins Overall championship. With only a 25 point lead, Zane seems poised to bring this championship home, but Homestead is not one of his favorite tracks. Chris has been sure to take advantage of Zane's absence with 3 wins at Homestead. You know we just don't give away championships to racers. Jerry Pellegrino sits in 3rd with only a 39 point gap to 1st place. He may be the dark horse in this championship, but the math says that he is still in the hunt!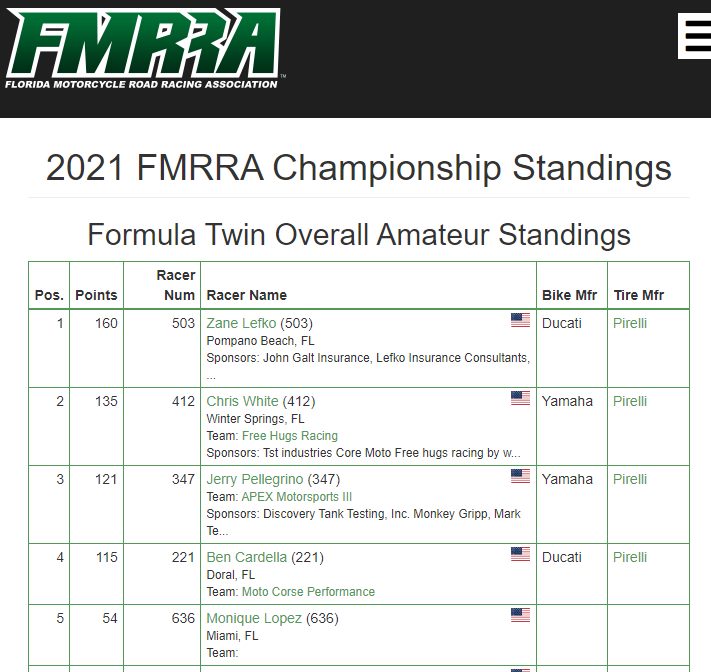 Click here to check out the full weekend schedule:
We're looking forward to a great weekend of racing!
Spectators are welcome
Gate Admission: $10 Saturday / $15 Sunday / $20 per weekend
Spectators riding motorcycles get in FREE
Children 12 and under free, parking-free
Food trucks will be available on Saturday and Sunday
Full Season Championship Results and Individual Race Results are conveniently available online at:
https://www.panamsbk.com/championships/
or follow us on social media:
http://www.instagram.com/floridaroadracing
http://www.facebook.com/fmrra